We are delighted to share with you that we have launched our first two pilot projects in Germany this Spring. Our Living Water Cities approach is gaining momentum! Berlin is a water city; there are 180 kilometres of navigable waterways within the city limits! Many consider the River Spree to be the heart and soul of the city. Berlin is thus perfectly situated to become a Living Water City and to work to enhance the health and biodiversity of its waterways.
Two Floating Ecosystems were installed this spring in the Lanwehrkanal, a canal that runs parallel to the Spree River in the Kreuzberg district of Berlin. A community conservation group called Bäume am Landwehrkanalin Berlin are the owners of the Floating Ecosystems and they provided volunteer labour to install them. We also received a significant amount of technical and logistical support from the Waterways and Shipping Office (WSA) Spree-Havel.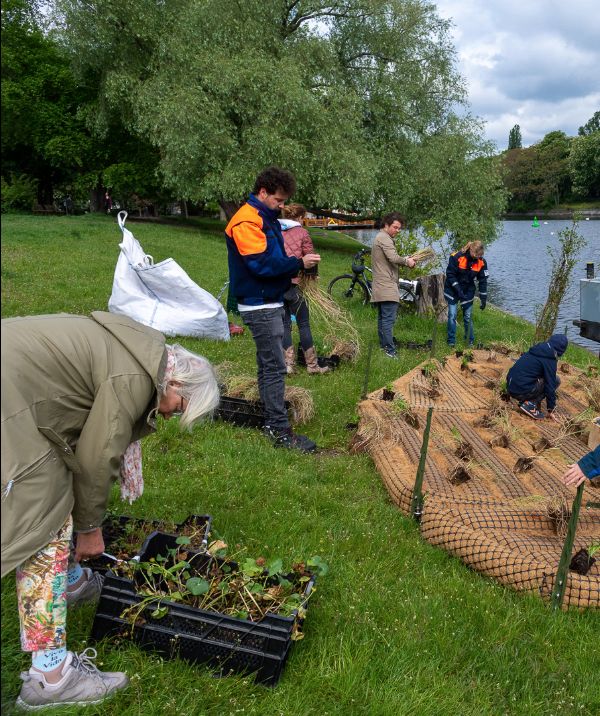 The waterways that run through our cities have the potential to provide excellent habitat for wildlife in dense urban centres. Due to years of degradation and the sterile hard edges that contain most of these waterways, what they need is a helping hand to come to life. Floating Ecosystems are an adaptable, modular tool for kickstarting health and for providing habitat above and below the water's surface. There is an increasing awareness about the importance of enhancing biodiversity and many governments around the world now have legislature that insures that all new developments deliver biodiversity net gain.
Urban water features are often hard-edged with vertical concrete banks that allow little space for wildlife and plants to settle. This is a missed opportunity, because water features can, with some small interventions, become bustling hotspots for wildlife. Native plants, wildflowers, insects, fish, birds and reptiles are all invaluable in a healthy, attractive and vibrant waterscape. The native plants and small trees that were planted on the Floating Ecosystems this spring will soon start to mature and blossom over the warm summer months.