The Royal Docks Floating Park
New Floating Ecosystems in east London were launched this summer at the Royal Docks. This new floating 'pocket park' will become a hotspot for urban biodiversity. The garden measures 315m2 and includes over 4,000 aquatic plants. It was delivered by Biomatrix Water working in collaboration with the Royal Docks team, the Royal Docks Management Authority, and the London Borough of Newham.
"We welcome unique and innovative approaches that help make London greener and improve Londoners' access to green space. This new floating 'pocket park' will provide a home for a range of plants and insects in a former industrial part of the capital helping to 'green the grey".
-Shirley Rodrigues
Deputy Mayor for Environment and Energy
 
Installation in July 2021
October 2021
The Floating Ecosystems will also provide a new accessible green space for Londoners to enjoy. Six groups of volunteers worked with Biomatrix to plant native species on the Floating Ecosystems. Including local residents, members of the Public Spaces Community Working Group and National Park City London volunteers. Empowering local people to help steward and restore their waterside environment.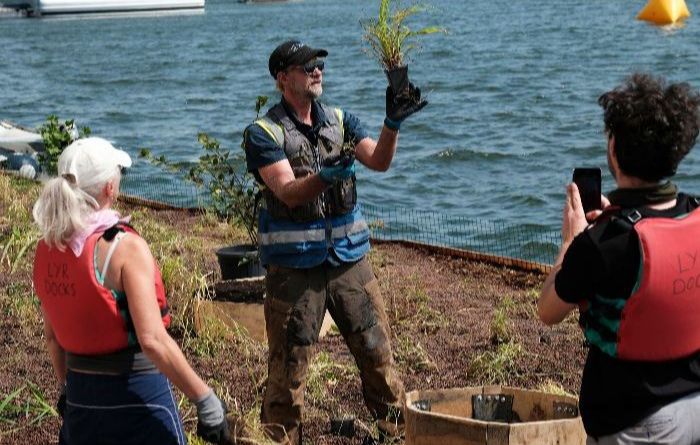 "I'm delighted to see the impressive floating garden that the team have created. This garden is a great addition to the beauty and ecological significance of the Royal Docks and ties in perfectly with the environmental and wellbeing initiatives made to the area delivering on our commitment to improving the health and wellbeing of Newham residents."
Rokhsana Fiaz OBE
Mayor of Newham
Before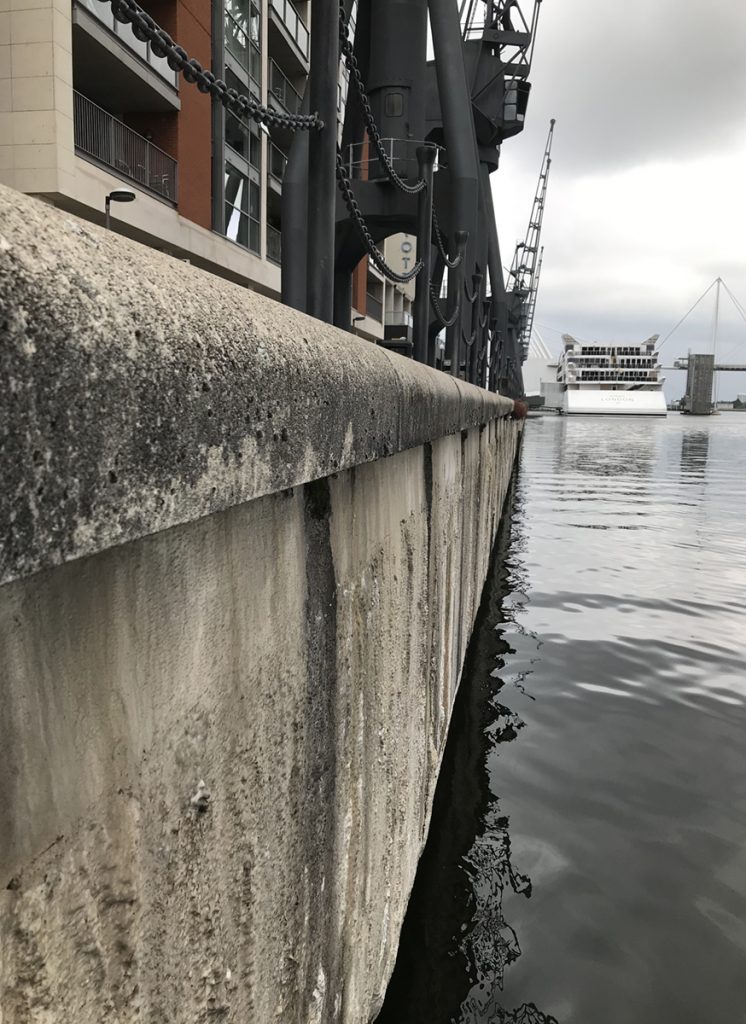 After
The Ecosystem design draws inspiration from biomimicry based on the natural ecology of the Thames Estuary. integrating clay, wood, and silt substrates to support a diversity of plant species. Until now, the dock edge has been substantially hard-edged with concrete. By bringing a natural planted ecology into the docks this project becomes a pivotal green catalyst. It brings a transformation from hard-edge infrastructure to a living water system with all of the additional green space benefits this provides.
An open pool features it's own miniature Floating Ecosystem
A swimmer passes the newly installed Floating Ecosystem
We are looking forward to seeing the plants grow and mature!