Floating Ecosystems Launched in Melbourne
We are excited to share the news of Floating Ecosystems launched in Melbourne, Australia on the Yarra River – Birrarung. The Yarra River – Birrarung is central to the city of Melbourne; and as the city has grown the river has become increasingly hard-edged. The Floating Ecosystems will provide much-needed wetland habitat close to the banks of the river in three locations. The project is funded by the Victorian Government and is part of a wider City of Melbourne Greenline Project, which will revitalise the north bank of the river. The Melbourne Floating Ecosystems project was led by WET Systems, our partner in Australia. Plants and installation support was provided by Balance Enviro, who joined us in Newcastle for installation training prior to the installation.
"This project will improve the health of our waterways. It will bring biodiversity and it will be a fantastic feature for people as they wander along the north bank of the Yarra and down into Docklands."
– Lord Mayor Sally Cap
The original landscape of Yarra River – Birrarung included vast wetlands, full of aquatic life, bird life, animals, insects, and riparian vegetation. Riparian habitats are some of the most biodiverse habitats on Earth as they are a meeting place for two ecosystems to come together. This unique and vital environment was known as "temperate Kakadu" and was an important ecosystem for the First Nations people who lived there, the Wurundjeri Woi-wurrung. As is the case in cities throughout the world as development increased the wetlands were drained for development and hard edges contained the river and port.
A new family of ducks has taken up residence on the Docklands island.
Taking a nap on a riparian ramp at the Docklands island.
Urban development has continued right up to the river's edge, leaving limited opportunities for the reinstatement of these important natural ecosystems. That's where Floating Ecosystems offer a unique opportunity to re-integrate natural values back into this urbanised river environment. Within days of installation, these floating ecosystems were already being used as a refuge by breeding swans and ducks and the Rakali, a rarely sighted native water rat.
"These wetlands provide greenery, a place for animals to rest and to feed, they're a refuge. We're trying to put these oases of refuge back into waterways, and trying to make the place a bit nicer for wildlife and for people to look at as well. We think they will be attractive for creatures like birds, turtles, and native water rats."
Melbourne University Urban Ecologist
Dr Kylie Soanes​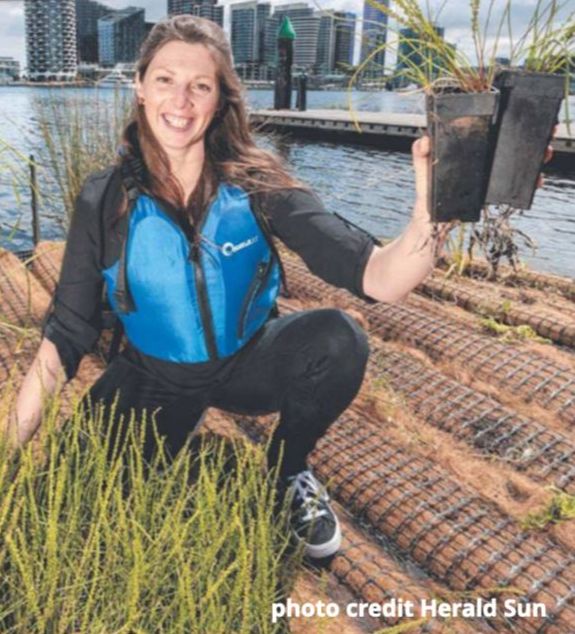 Dr. Tom Headley supervising the installation of Floating Ecosystems
We are delighted to be in partnership with WET Systems. Dr. Tom Headley of WET Systems is a key leader in this field and designed the world's largest industrial constructed wetland system, consisting of >1200 ha of surface flow wetlands and ponds for managing 175,000 m3/d of oilfield wastewater in the desert of Oman.
Two of the larger Floating Ecosystems at the Yarras Edge, Melbourne
Community planting of the Yarra's Edge islands